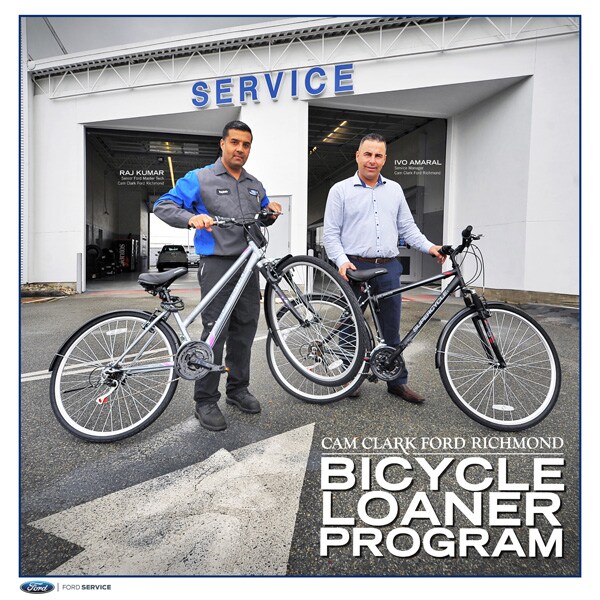 We have complimentary Bicycles when you bring your vehicle in for service. If you don't feel like relaxing in our service lounge (with great specialty coffees), our hopping on our complimentary Richmond shuttle service... we now have a fleet of complimentary loaner bicycles to enjoy the beautiful city of Richmond!
Get a little exercise & fresh air, check out the beautiful scenery, reduce your carbon footprint and just have a little fun!
Speaking of fun - here are Ivo (our service manager) and Raj (Jedi master technician) , making sure the first of our new bikes are good to go!
Always remember to follow the rules of the road (we have an info handout) and wear your helmet (we have those too!)
Interested in cycling in Richmond? Just take a look at this link : https://bit.ly/2kMp6qz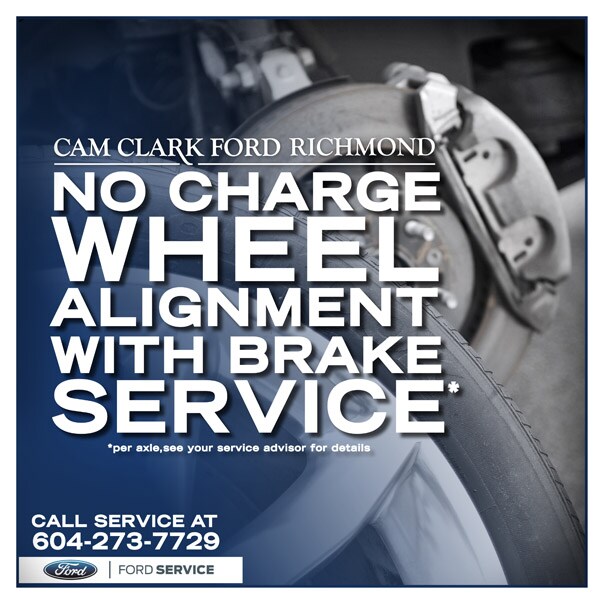 No Charge* Wheel Alignment when you have your Brakes serviced at Cam Clark Ford Richmond!
Brakes are one of the most important safety features of your vehicle. Trust our amazing service team to make sure your brakes are done right the first time.
Call service at 604-273-7729 or book your appointment here : www.camclarkfordrichmond.com/bookservice.htm
*per axle, see your service advisor for details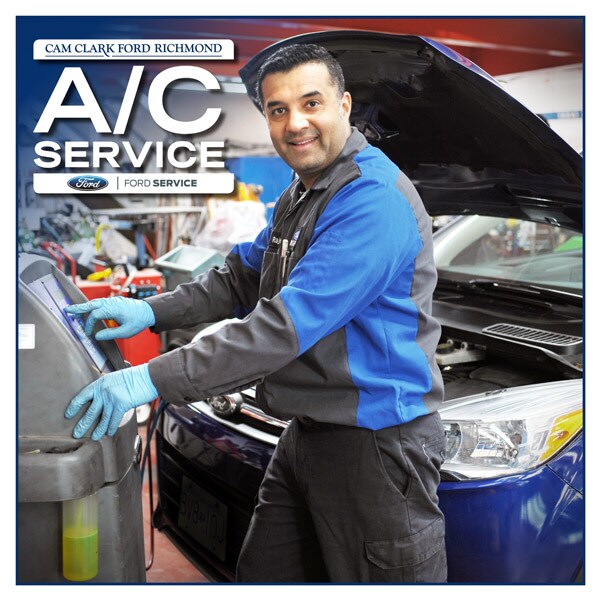 Beat the heat and stay cool!
Visit the Cam Clark Ford Richmond Service team if you are having any issues with your A/C. We have the environmental skills, we have the correct Ford components and we have the best Factory Trained Master Technicians (including our pictured smiling Jedi Master Raj!)
To stay 'COOL' book your A/C service appointment by calling 604-273-7729 or click this link : https://www.camclarkfordrichmond.com/bookservice.htm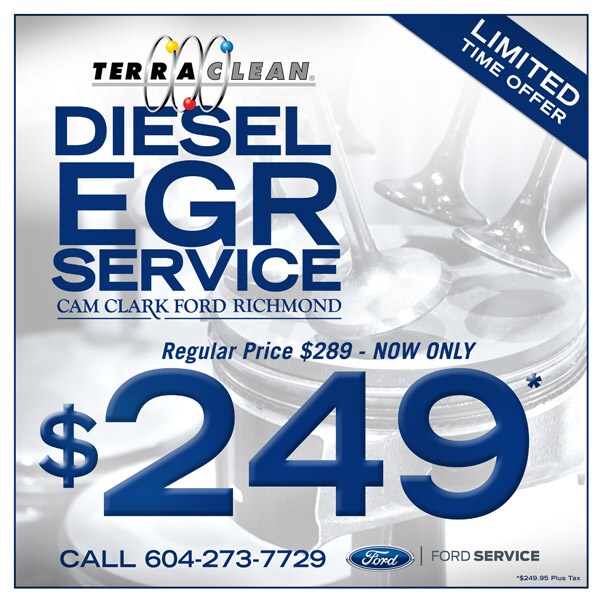 DIESEL EGR SERVICE

Reg $289 Now Only $249*
The EGR system is an important for both emissions and drivability. At Cam Clark Ford Richmond we use TerraClean's patented technology which cleans the inside of your vehicle's fuel system. By removing carbon we can improve engine performance, reduce emissions, and reduce costs by increasing component lifespan.
Call 604-273-7729 to speak to one of our wonderful service advisers and take advantage of this great diesel service!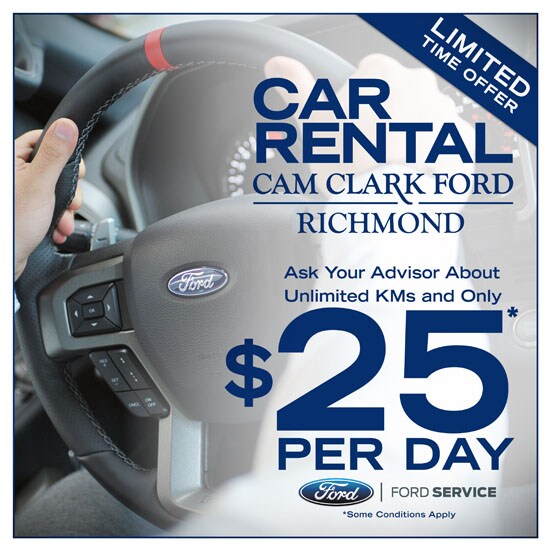 No need to walk when your vehicle is in for it's service!
For a limited time, only $25* Cam Clark Ford Richmond Car Rental. See your service advisor for details or call 604-273-7729
*Some conditions apply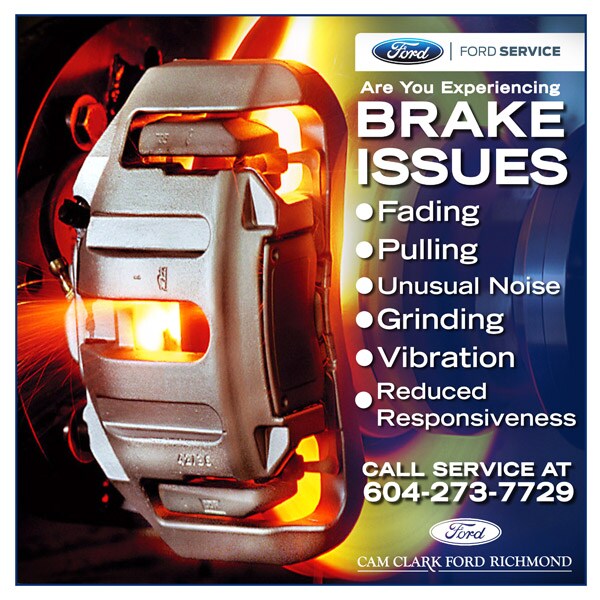 Braking Issues?
Brakes are one of the most important safety systems on your Ford vehicle and should be inspected as part of your routine maintenance schedule.
If you are experiencing any of the following 'abnormal' braking issues please make sure you have your brakes checked ASAP! Call our award winning service department directly at 604-273-7729


REDUCED RESPONSIVENESS or FADING
If your brakes are not as responsive as they should be or if the pedal "sinks" toward the floor, this could be an indication of a leak in the braking system. It could be an air leak (in the brake hose) or a brake fluid leak. One telltale sign of a brake fluid leak is the presence of a small puddle of fluid when the car is parked.

PULLING
If your vehicle "pulls" to one side while braking, it may be a sign that the brake linings are wearing unevenly or that there is foreign matter in the brake fluid. Your vehicle may need a brake adjustment or to have the fluid drained and replaced.

GRIND,GROWLING or UNUSUAL NOISE
This loud metallic sound means that you have worn down the pads completely, most likely beyond replacement. The grinding or growling noise is caused by the two pieces of metal (the disc and the caliper) rubbing together. This can "score," or scratch your rotors, creating an uneven surface. If this happens your rotors will need to be replaced.

VIBRATION
A vibration or pulsating brake pedal is often a symptom of warped rotors (but can also indicate that your vehicle is out of alignment). Warped rotors can be caused by brake over heating and can cause stability and control problems!

Book your Cam Clark Ford Richmond Service Appointment today at 604-273-7729