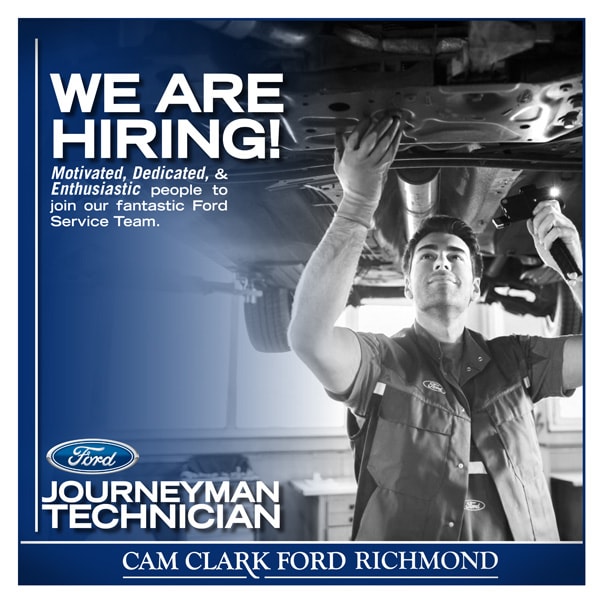 Cam Clark Ford Richmond in the Richmond Auto Mall, is currently seeking a full time Certified Journeyman Technician with diesel experience to join our fantastic Ford service team. Experience in Ford training and products will definitely be an asset. However, training is available to those who qualify otherwise.
We have a great service team and we are looking for somebody with a positive attitude and a 'can-do' spirit. This position includes all benefits including the Ford Pension Plan and the shift is Monday to Friday with the weekends off... and we pride ourselves on being the best dealership in Canada to work for!
Serious applicants only please and we look forward to you joining the Cam Clark Ford Richmond Team!
Apply by email to our service manager Ivo Amaral -  iamaral@camclarkmail.com - or drop off a resume in person to our service department.

REQUIREMENTS:
✓ Perform mechanical assessments of vehicles.

✓ Document performed repair orders in a legible and concise manner.

✓ Ensures mechanical compliance of all vehicles.

✓ Priority in delivering quality workmanship.

✓ Maintains a positive & enthusiastic conduct within the dealership.

✓ Follows best practices, compliance and trade regulations

✓ Maintain a safe and ethical environment.


CREDENTIALS:

✓ Journeyman certificate from accredited institution.

✓ Ford experience (if applicable) with an evident record of accomplishment.

✓ Team player and also able to work independently.

✓ Valid drivers license.

We look forward to having you join our team and work with the best of the best !